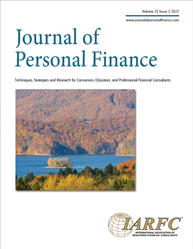 The benefit I get from reading this academic work is to think outside the box and sometimes change my perspective on the current trends facing our prospects and clients… IARFC Trustee Chair, H. Stephen Bailey, Ph.D., MRFC®

MIDDLETOWN, Ohio (PRWEB)
October 06, 2022
JPF Editor, Craig Lemoine, Ph.D., MRFC® CFP®, is the director of the financial planning program at the University of Illinois, Champaign, IL. With training dating back to 2003, Dr. Lemoine has an in-depth understanding of financial planning review and assessment. He has served on the CFP® Board Exam Board since 2010, was a professor of financial planning at the American College, and served as director of the MRFC certification board.
"We are thrilled to share this strong and diverse issue," says the journal's editor, Dr. Craig Lemoine, MRFC®. "I am proud to have built this edition on the foundation of a strong pipeline of manuscript submissions. Each article in this issue delves into different areas of personal finance, adding to the body of knowledge on student financial well-being, determinants of counseling fees, racial and ethnic differences in ownership of types of insurance life insurance products, personality type studies and insurance acquisition and how to identify financial consumer opinion leaders. Additionally, we are able to showcase the work of the 2022 IARFC National Financial Plan Competition case study champions! »
The following six articles are included in the 2022 edition, Volume 21, Number 2

2022 National Financial Plan Competition Winning Case Story – The Franklin Family

Applying a human capital framework to the financial well-being of college students

Determinants of Advisory Fees in US Equity Mutual Funds

Racial/ethnic differences in life insurance ownership and life insurance adequacy

Personality traits and life insurance ownership among older Americans

Identify thought leaders in consumer finance
"The Journal of Personal Finance provides a deeper, more quantitative perspective on issues in the financial services industry," says IARFC Chairman of the Board, H. Stephen Bailey, Ph.D., MRFC® . "These manuscripts explore an in-depth point of view by discussing current opinions and conclusions. What I take away from reading this academic work is to think outside the box and sometimes change your perspective on the current trends facing our prospects and customers. I am happy that the Association can bring this relevant information to our members! »
Launched in 2002, the Journal of Personal Finance has grown in reach, acceptance and recognition among practitioners and scholars. The JPF welcomes articles from finance professionals and practicing consultants on financial products and services, client relationships, retirement planning, long-term care, practice management and operational efficiency. companies.
For IARFC members, the JPF is a benefit and a source of continuing education credits. Members can take CE quizzes online from the IARFC's Journal of Personal Finance. Two CE IARFC units will be awarded to members who score 70% or more per quiz.
To order a hard copy or electronic version of the Journal of Personal Finance, for more information, or to view article submission guidelines, go to http://www.iarfc.org or contact the publisher. Sign up to take the CE quiz at the IARFC store.
Share the article on social networks or by e-mail:
.